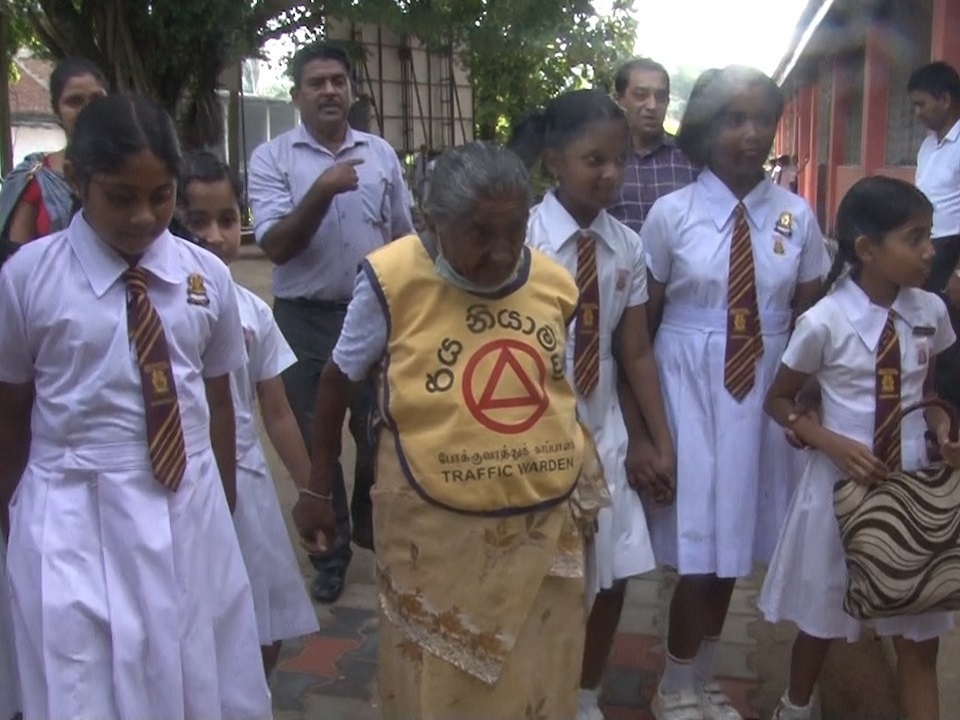 Lily Violet extended five decades of love and dedication to the safety of the school children.
Why is the story of eighty-seven-year-old grandmother Lilly Violet who lives in a small house in Gamamada Road, Paragammana, Kegalle, included in the fifth-grade textbook?
How did this lady, who lives under poor conditions, become the "Derana Sri Lankan of the Year" when hundreds of thousands of Sri Lankans have better social, economic and physical strength, education, positions and popularity are present?
It was the love, kindness and immense sacrifice she made to help the children of Kegalle Hettimulla Bandaranaike Junior School. For five decades, she continuously helped all the children to cross the road to school and back home safely.
All Sri Lankans should look into this, not just grade-five children.
What she did was simple, but her dedication got the power to open the sleepy eyes of millions, showing them how much work one can do for society, even all alone.
Manusath Derana paid tribute and celebrated her eighty seventh birthday at her home. The Managing Director of Ragama Leesons Hospital also joined. We wish you good health and long life, loving Grandma Lily Violet.
කෑගල්ලේ පරගම්මන ගමමැද පාරේ කුඩා නිවසක වෙසෙන වයස අවුරුදු අසුහතක් වන ලිලී වයලට් අත්තම්මාගේ කතාව
පහ ශ්‍රේණියේ දරුවන්ගේ පෙළපොතට එක්වුයේ කුමක් නිසාද? ආර්ථික ශක්තියෙන්ද, ශාරිරික ශක්තියෙන්ද , උගත් කම අතින්ද, සමාජ තත්වයන් අතින්ද, නිලතල අතින්ද හැකියාවන් ඇති ලක්ෂ ගණනාවක ශ්‍රී ලාංකික ජනතාවක් මෙරට වෙසෙද්දී ඉතා දුෂ්කර තත්ත්ව යටතේ වුවද සතුටින් දිවි ගෙවන්නේත්, ඇය "දෙරණ ශ්‍රී ලන්කන් ඔෆ් ද ඉයර්" එනම් දෙරණ වසරේ ශ්‍රී ලාංකිකයා වුයේත් කෙසේද? පහ ශ්‍රේණියේ දරුවන් පමණක් නොව, ශ්‍රී ලාංකිකයින් වන අප සැවොම සැබවින්ම එය විමසා බැලිය යුතුම කරැණකි. ඇය සිදු කලේ ඉතා සරල කාර්යයකි. එහෙත් කාර්යය සරල වුවද, කැපවීමක් ඇත්නම් සියලු දනන්හට තම නිද්‍රාශීලි දෑස් විවර කොට තම ශක්ති ප්‍රමාණයෙන් කල හැකි කාර්යයන් කොතෙක්නම් ඇද්දැයි මැනවින් පසක් කරයි.
තම දරුවාට පමණක් නොව සියලු දරුවනට ඇය එකසේ ආදරය හා කරුණාව දැක්වූ බව පිළිබිඹුවන්නේ පුරා දශක පහක් පුරාවට ස්වේච්ඡාවෙන් අඛණ්ඩව කෑගල්ල හෙට්ටිමුල්ල බණ්ඩාරනායක ප්‍රාථමික පාසලේ දරුවන් ආරක්ෂිතව මාර්ගයෙන් එතෙර මෙතර කිරීමට ඇය සිදු කල අපිරිමිත කැපකිරීම නිසාවෙනි.
මනුසත් දෙරණ කණ්ඩායම හා රාගම ලිසන්ස් රෝහලේ කලමණාකාර අධ්‍යක්ෂකවරයා පසුගියදා ඇයගේ නිවසට ගියේ ඇයගේ අසුහත්වන උපන්දිනදා ඇයට උපහාර සිදුකොට සතුටු කිරීමටයි. ලිලී වයලට් අත්තම්මාට නිරෝගී සුවය හා දිර්ඝායුෂ.